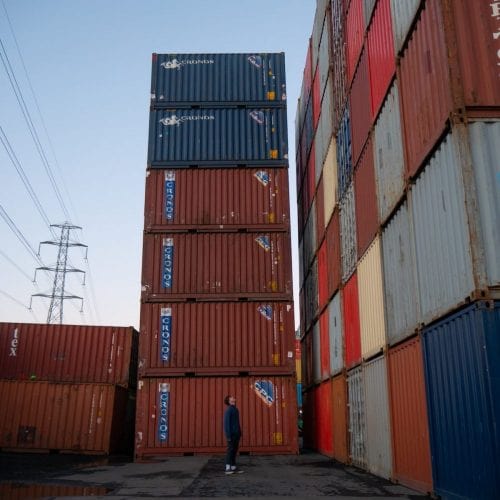 Are you a business start-up wondering whether you need storage or warehouse space for goods? Or perhaps you are an established company looking to import and export for the first time? Loading bays play a crucial role in the supply chain and the ongoing supply and transportation of goods at a regional, national and continental level.
When browsing our available industrial space to let, you will probably see mentions of loading bay access within our unit descriptions. What exactly does a loading bay look like and are there different types of loading bays?
Loading bays – or loading docks as they are also known – are usually integrated within the walls of industrial plants or warehouses. They look like taller, thinner garage doors, enabling lorries and trucks to reverse the rear of their vehicles up to the entrance of a loading bay. Thus, making it easier to unload and load equipment and goods. Loading bays cannot double-up as car parking spaces. They are specifically designed for unloading vehicles and deliveries.
How many types of loading bays exist?
There are multiple loading bay designs that you may find integrated within any of our available commercial units to let:
Saw-tooth loading dock
One of the most popular types of loading bays, particularly for warehouses with only modest space for vehicles to manoeuvre, saw-tooth loading docks are built at an angle, making it easier for lorries and vans to drive away. The con of saw-tooth docks is that they are bulkier and can waste valuable storage space internally.
Open docks
Open docks are one of the most unlikely loading bays you will see in an industrial unit today. They are being increasingly phased out as they are unpopular with all kinds of businesses. As you might have guessed by the name, these loading bays are open to the elements. Although this makes it easy for loaders to move goods onto and off vehicles, it does leave these goods exposed to damage or even theft.
Flush docks
Flush docks are probably the most used loading bay in commercial property today. These bays are integrated within the external walls of an industrial unit or warehouse, with the dock and foundation bumper extending several inches beyond the unit's exterior. This makes them less prone to damage, with vehicles able to reverse 'flush' to a dock's entry space.
Enclosed loading bays
There may be instances where industrial units incorporate loading bays inside their warehouses. Enclosed loading bays give vehicles the ability to unload and load indoors. Although this gives workers easier, direct access to goods unloaded, there are expensive cons to these enclosed loading bays too. First and foremost, the warehouse will require an expensive air filtration system to handle the increasing pollution and exhaust fumes generated by delivery vehicles. Secondly, these enclosed bays do take up a substantial amount of floor and storage space.
Cantilever loading bays
With a cantilever loading bay, the face of the dock or the foundation wall of the bay extrudes out from the unit's external wall. This is another useful loading bay as it prevents damage to the unit itself in the event of any issues with dock bumpers.
If you are searching for a new industrial unit or warehouse for your business and you want to be sure you have the right loading bays to suit your needs, get in touch with our experienced property agents who can recommend available spaces with the right bays and access to keep your business moving forward.
For more information, please don't hesitate to call our friendly team today on 020 8108 7134 or drop us a line using our online enquiry form.
—