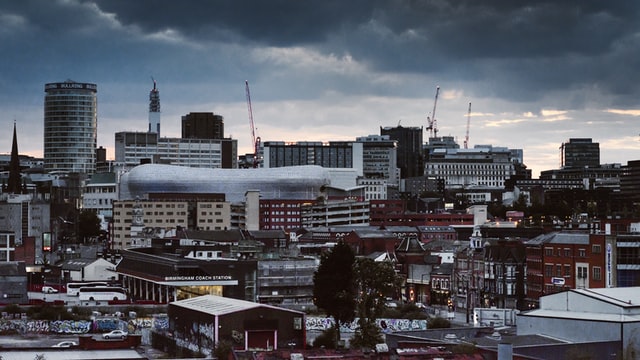 England's second city of Birmingham has been named the UK's eighth best city for work-life balance. That's according to a new study from Shawbrook Bank, which researched the 15 cities offering the best blend of work opportunities and a comfortable standard of living.
The report assessed a host of metrics including average monthly salaries, weekly working hours and average commute times. It found that Birmingham offered the third-lowest average weekly working hours at just 32.7 hours – 1.1 hours below the national average. In addition, the average commute time for professionals in the second city is 28.85 minutes – lower than the national average of 30 minutes.
Property prices, cost of living and average monthly salaries are considerably lower than other towns and cities on the list, including London, Cambridge and Oxford. The average monthly pay check of a Birmingham-based professional is £1,743.17, which equates to less than the UK average.
Sally Conway, head of consumer communications at Shawbrook Bank, said: "Our happiest cities index takes into account a range of metrics that apply to a healthy work-life balance, allowing consumers to evaluate how they live and work and if their city allows for what they attribute to a healthy work-life balance."
"Being happy in the city you live in is so important but can depend on a number of factors."
"Whether it's a shorter commute time, more hours of daylight or being able to choose from a vast array of takeaways or parks to enjoy, it's important to consider what works best for you and your lifestyle."
If you're the owner of a growing business in and around the West Midlands, now could be the ideal time to consider Birmingham as your new base. Not only could it expand your talent pool, with highly qualified professionals more likely to consider working and living in the second city, it could offer commercial and logistical benefits to your business too.
Birmingham remains one of the most influential commercial hubs in the UK, with significant investment in infrastructure taking place in the heart of the West Midlands. The city is preparing to host the 2022 Commonwealth Games which should generate significant economic benefits to businesses in the area. The arrival of the event means transport links will continue to be invested in and improved in the next 12 months.
The city's wider economy is also expected to be one of the ten fastest UK cities to bounce back from the Covid-19 pandemic, according to a report from the Centre for Economics and Business Research (CEBR) and Irwin Mitchell. Birmingham is forecasted to post the ninth quickest year-on-year GVA growth of the 50 major cities surveyed nationwide. Meanwhile neighbouring Solihull is set to post the fastest GVA growth by the end of this year, as the West Midlands demonstrates its commercial strength and durability once again.
At Pall Mall Estates, we own and manage over 4,000,000 sq. ft of prime grade business space nationwide. Many of our 125+ properties are situated across Birmingham and the surrounding area. Take some time to browse our available workspace to let in Birmingham today.
If you'd like any further information on an available unit, please don't hesitate to pick up the phone and call our friendly and experienced team today on 020 8108 4936. Alternatively, you can submit an online enquiry outlining your bespoke requirements.
—