CBI unveils 'Seize the Moment' economic strategy for the UK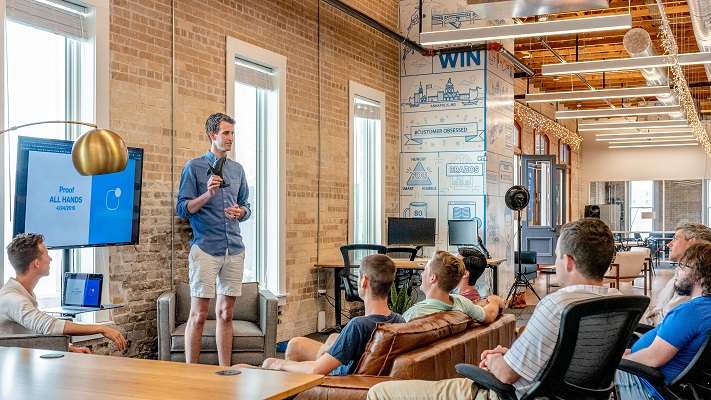 The Confederation of British Industry (CBI) has published its bold vision for transforming the UK economy in the post-pandemic recovery. Its forward-looking dossier, titled 'Seize the Moment', describes the UK as having a "once-in-a-generation opportunity" to reunite and transform the economy for the "decade ahead".
The roadmap notes the UK's new trading relationship with the EU, Covid-19, the UK's net-zero emissions goal and the fast-moving tech world as the biggest reasons for an "ambitious" and "joined-up strategy" to take the UK forward.
The strategy is the output following several months of collaboration and analysis among CBI members. It identifies six key areas that the UK economy could drive to generate upwards of £700bn for the country's coffers:
1. A focus on workplace-based health interventions
The UK's GVA could be buoyed by as much as £180bn by 2030 if employers are encouraged to implement health interventions inside and outside the workplace for staff. Employer care for staff during the pandemic should be maintained.
2. Empowering UK SMEs to export globally
Export revenues could yield an additional £20bn for the UK economy by the end of this decade if SMEs are engaged to export their goods and services overseas.
3. Closing the UK's skills gap
The closure of future skills gaps nationwide could also drive an uplift to UK GVA worth up to £150bn by 2030.
4. Embrace AI and new tech
Creating the right climate for SMEs to adopt new technologies and embrace the power of artificial intelligence (AI) could generate £38bn and £45bn for UK GVA respectively by 2030.
5. Regionalised economies plausible by 2030
Regional industry 'clusters' are plausible as part of the push for a net-zero economy, helping to create local economies and new identities nationwide.
6. Decarbonising for additional revenues
Increasing exports of hydrogen electrolyzer production to EU trading partners could generate an additional £8bn in revenue by the end of this decade.
Tony Danker, director general of the CBI, said: "For the last five years, business and government have been at odds. Brexit was very divisive.
"But after the events of the last five years, we find ourselves in total alignment about what needs to be done.
"We need to level up, we need a greener economy and we should not waste this opportunity."
Optimistic about the future of your business? Get high-value, low-cost commercial space with Pall Mall Estates
If you have ambitious growth plans for your business or you have been inspired to launch a start-up as Covid-19 restrictions ease, Pall Mall Estates is here to help find an ideal business space as your trusted independent commercial landlord.
We own and manage over 4 million sq ft of prime grade workspace across the UK, with well-connected and feature laden premises capable of taking your business forward on flexible lease terms.
Take some time to browse our available properties. If you would like any further information on a unit, or you wish to arrange a viewing, our friendly and experienced property agents are ready and waiting to assist.
Give us a call today on 020 8108 7078 or drop us a line using our online contact form to outline your unique requirements.
—
Pall Mall Estates have a wide range of low cost commercial properties across the UK.
Take a look at our available spaces here or get in touch with our experienced team here.