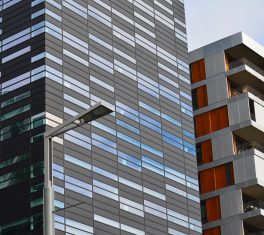 Whether you're looking for a property for your start-up or you want to relocate your business, there are many different things you'll have to bear in mind - including commercial property classes. But what exactly are these, and why are they important?
To help you get to grips with this concept, keep reading.
The basics
Under the Town and Country Planning (Use Classes) Order 1987, buildings in the UK are categorised into different 'use classes'. In short, these categories determine how a property can be used.
Once a use class has been assigned to property, only the types of businesses that fall within that particular class can operate on the premises. If a new type of business wants to operate on the premises but it falls under a different classification, it's likely that planning permission will need to be obtained first.
A breakdown
To get to grips with these categories and what they mean, check out our quick breakdown below.
Class A
A1
Properties that fall under Class A1 include shops and services including:
Shops where goods are sold

Post offices

Hairdressers

Florists

Funeral directors

Travel agents
A2
The A2 category includes financial and professional services. Class A2 specifies that the customer is visiting the premises, and it does not include health or medical services.
A3
Class A3 includes premises that sell food and drink, either to be consumed on site or off site.
A4
Class A4 covers establishments where the primary purpose is the sale and consumption of alcohol, such as pubs and bars.
A5
Class A5 is for sale of hot food that is intended to be consumed off the premises, such as takeaways.
Class B
B1
Class B1 is broken down as follows:
B1(a) - offices, except those mentioned within Class A2
B1(b) - premises used for research and development, such as laboratories
B1(c) - industrial processes which can take place within a residential area without causing damage
B2
B2 includes properties used for industrial processes and does not fall under category B1.
B8
B8 applies to properties that are used for storage or as a distribution centre.
Class C
C1
Properties within category C1 includes hotels, hostels, boarding houses and guest houses.
C2
Category C2 includes residential institutions, such as hospitals, care homes, boarding schools and training centres.
C3
C3 includes properties that are used as a "dwelling house", either as a primary or secondary residence. This category is split up into three sub-categories:
C3(a) - a single household as defined by the Housing Act 2004
C3(b) - single households of up to six people living together and receiving care, such as supported housing schemes for those with learning disabilities
C3(c) - single households of up to six people living together that do not fall under Class C4, such as a homeowner who is living with a lodger
C4
Properties within Class C4 includes small shared houses occupied by between three and six unrelated individuals sharing basic amenities, such as a kitchen or bathroom.
Class D
D1
Class D1 includes many public services that do not fall under Class A. These can include premises offering:
Medical or health services

Child care, such as nurseries and creches

Non-residential education
It can also include properties such as museums, galleries, exhibition halls, libraries and places of worship.
D2
Properties that fall under Class D2 includes premises used for entertainment and leisure purposes, such as:
Gyms

Swimming pools

Cinemas

Concert venues

Bingo halls

Casinos
Sui generis
Properties that do not fall under any of the above classes are considered sui generis - which is Latin for "of its own kind". Premises that may fall under this category can include scrap yards, petrol stations and taxi businesses.
Understanding commercial property classes is important for the operation of your business. For more information, don't hesitate to get in touch with our property experts at Pall Mall Estates here.
— Pall Mall Estates have a wide range of low cost commercial properties across the UK.

Take a look at our available spaces here or get in touch with our experienced team here.