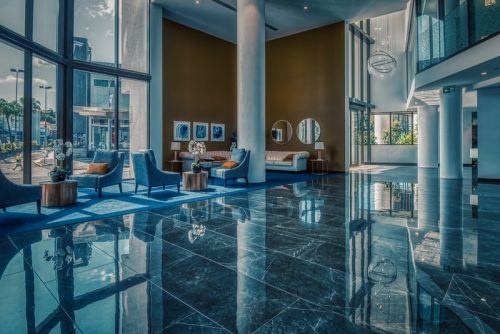 Are you in the process of planning your first commercial premises as a fledgling start-up business? As a new entrepreneur, it can sometimes feel as if you're putting your finger in the air and hoping that you are making the right decisions based on gut feel and instinct rather than cool calculations.
When it comes to selecting a suitable headquarters for your new venture, you can't scrimp on floor space and nor can you take a guess as to how much each employee should have for health and safety reasons.
Back in 1992, the Health and Safety Executive (HSE) introduced Regulation 10 of the Workplace, (Health, Safety and Welfare) Regulations 1992, which outlines the minimum requirements for a commercial property's room dimensions and floor space. Each room where employees will be required to work must legally have sufficient floor area, height and unoccupied space for the purposes of health and safety and staff wellness.
These regulations mean that, as a fledgling employer, you are required to offer at least 40 square feet per person in office environments, but this is not applicable for the overall building and business per employee.
How should workrooms function?
In any workroom of your new premises, staff should have the ability to move around their workstation and across the room with relative ease. The number of employees that can work in a single room at the same time will ultimately depend on the type of furniture, equipment and machinery your business needs, which will inform the overall layout of the space.
The HSE stipulates that the total volume of a workroom, when empty, divided by the number of staff working within it, should equate to no less than 11 cubic metres. Remember, this is a bottom-line figure and may be far too small if some of the floor space is taken up with furniture and machinery.
The importance of your new working environment is vital not only to keep hold of your best talent but to ensure employees' broader wellbeing is accounted for. Organisations such as the Business Centre Association (BCA) and BREEAM have helped influence the UK's small and medium-sized enterprises (SMEs) immensely, encouraging entrepreneurs to think more carefully about designing workspaces that put the satisfaction of staff before anything else.
This involves taking into consideration levels of natural light, introducing green spaces that help staff interact with the outside world and offering ample breakout spaces that give employees a chance to switch off away from the confines of their workstation. After all, happier, motivated employees make for more productive employees that can have a positive effect on your bottom line.
Be realistic about how much space you need for your staff. Avoid designing floor plates that are so tightly packed they are claustrophobic. Typically, an average of 80-100 sq ft per head will give you the space to build a productive working environment.
If you're seeking low-cost, high-value business space that can give your start-up the platform to grow, we can help. 
—
Pall Mall Estates have a wide range of low cost commercial properties across the UK.
Take a look at our available spaces here or get in touch with our experienced team here.
—