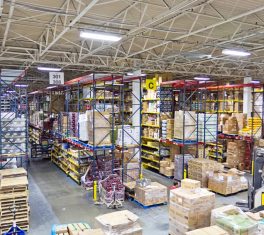 It's a common conundrum for businesses looking for storage solutions - how do you work out how much space you need? Calculating warehouse storage space requirements needn't be a headache if you follow our simple guidelines- and if you need more advice our team of experts are always happy to talk you through your options.
Step One
Know your products. This is the easiest and most obvious way to help you understand how much warehouse storage space you need. The ideal products for hassle-free storage are those which can be boxed and stored on stackable pallets, and a simple mathematical calculation (base multiplied by height multiplied by length) will tell you how much space you need for the storage itself. We do understand that not all items come in perfectly square boxes or on pallets, so if your needs are more complex, let us know and we'll do our best to help!
Step Two
Consider shelf life. If your products have specified expiry dates, you'll need to think about how to store them so you always have easy access to the things you need first. If boxes are stacked high to the ceiling, will you be able to read the date labels? You may want two or more separate areas, or to factor in things like refrigerators or other equipment. Knowing the dimension of all of these items will make your life a lot easier and help you avoid any storage nightmares.
Step Three
Think about how much space you'll need for things other than storage. Even if you only want to
use the warehouse space for storing boxes, you'll still need clear walkways. If the area is to be used as a regular workspace, then you'll need to consider things like staff areas, desks, office equipment, production and packing areas, all of which can have a significant impact on the amount of space you need.
Step Four
Come and have a look! We offer a huge range of great value commercial property throughout the UK, and our friendly team are always happy to show you around to help you visualise how the space will work for you and the individual needs of your company.
— Pall Mall Estates have a wide range of low cost commercial properties across the UK.

Take a look at our available spaces here or get in touch with our experienced team here.