Is Hot-Desking the Future?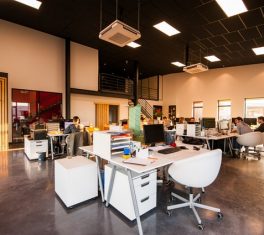 Hot desking has become an increasingly popular way of working in the post-Millennium era. It's a working environment which sees no-one have a set place of work. There's no opportunity for office desk personalisation, photographs of loved ones or fluffy toys. Instead, workers can choose to sit and work wherever they like. Initially, this proved to be a popular tactic, allowing colleagues to sit together when collaborating on individual projects or tasks and also giving staff the freedom to work away from the main office space in quieter locations.
While the practice of sharing workstations may have been liberating in the outset, it appears that many office workers are growing increasingly tired of the practice. A recent 'What Workers Want' survey of over 1,000 office workers by Savills revealed that just 12% of those surveyed believed hot desking was a more productive way of working than traditional methods. Half of the survey respondents said that hot desking made them less productive.
Although business owners see the financial benefits of hot desking in terms of the reduced floor space required and the ability to streamline office furniture, it's unlikely that these outweigh the productivity issues. Almost two-thirds (60%) of survey respondents said they would prefer a dedicated, personal workstation.
The uncertainty surrounding the future of hot desking
It's difficult to provide a definitive answer as to whether or not hot desking is here to stay. Some believe that hot desking is a form of flexible working that millennial workers increasingly crave, meanwhile others suggest that hot desking can demotivate workers, leading to them feeling like a cog in a corporate machine as opposed to a valued individual.
There's certainly a feeling that the formality of an office desk will disappear in the years and decades ahead, as businesses shift towards a more collaborative, informal way of working. That's why office layouts should increasingly factor in break-out spaces to encourage employees to work in 'clusters' and foster knowledge sharing and brainstorming. The danger is that internal teams and departments can become separated and fragmented as a result of hot desking. This, in turn, could harm communication and results.
The need for more intelligent office layouts
Commercial property developers and landlords alike will need to focus firmly on improving and maintaining employee wellbeing, regardless of the future of hot desking. Intelligent office designs will be key to bolstering staff morale, with abundant natural light and increased office greenery which is scientifically proven to have a lasting effect on an individual's productivity and state of mind.
Noise levels have been consistently mentioned as a reason for declining productivity levels in open-plan, collaborative office environments. 83% of survey respondents said that noise levels were an issue, compared with 77% when the same survey was undertaken two years ago. Although the flexible, collaborative way of working that is hot desking should ensure that businesses never return to individuals having private offices, developers and landlords looking to fit out their new office spaces should factor in the need for improved acoustic solutions to take their working environment well into the 21st century and beyond.
Pall Mall Estates have a wide range of low cost commercial properties across the UK. Take a look at our available spaces here or get in touch with our experienced team here.