Is it worth spending money on an expensive office fit out?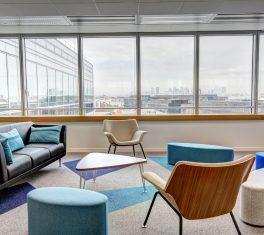 Many growing businesses often ask the same question as to how much an office fit out costs. It can be difficult for fit out companies and commercial property landlords to provide a definitive answer, simply because different workspaces require different alterations and improvements to get them up to scratch.
Understandably, the cost of an office fit out rises as the size of a business and the specifications required increase. According to K2Space, the average cost of a budget office fit out is between £35-40 per square foot. However, medium-to-high specification office fit outs can reach figures of between £45-65 per square foot – and that's before you consider comfortable, ergonomic office furniture which can also range from £10-£20 per square foot.
There are various other factors to consider in the overall cost of an office fit out. Consider the long-term condition of the building's mechanical and electrical (M&E) systems for starters. If you would need to pay for the installation of brand-new systems, it might be more cost-efficient to move and find a more future-proof premises. Commercial properties that are old or listed can also lead to complications with office fit outs, particularly with listed buildings given the amount of paperwork and planning required before works can be carried out.
Nevertheless, if you can find a commercial space that's in good general condition, an office fit out can be a tremendous investment on various fronts:
A productive working environment for staff


It's been scientifically proven that employees work best when they have an abundance of natural light and a direct connection with the outside world. Whether it's the installation of new floor-to-ceiling windows, rooflights or living walls, interior fit outs that enhance staff productivity can be worth their weight in gold.

Build team unity and rapport among colleagues


Improving communal areas such as breakout spaces and kitchens are a great way to make work fun and encourage colleagues to socialise and build rapport during and after working hours.

Make a great impression with prospects and existing customers


For companies that regularly entertain prospects and customers on-site, investing in a comprehensive office fit out can be hugely beneficial to creating the experience you want your clients to have of your brand. Whether it's on-brand messaging throughout the office, stylish, ergonomic furniture or simply state-of-the-art technology, investing in high-spec fit outs can impress upon prospects and clients that you are serious and meticulous about everything you do.
At Pall Mall Estates, we're committed to giving growing and ambitious businesses a leg up when it comes to designing and creating a working environment that helps them take their company forward.
That's why we offer a range of fit-out property deals that make it easier and inexpensive to tailor premises to suit your unique requirements. As an owner-manager of 5.5 million square feet of commercial space nationwide, we prefer to find the right tenant for the right property. 
If you like any of our available units that require interior or exterior improvements before you consider moving in, we may agree to undertake the alterations on your behalf, or provide you with a discount to make it more cost-efficient for you to pay for the work yourself.
For more information on our fit-out property offers, call our property agents today on 020 8986 7221 or drop us a line using our online enquiry form for more information.