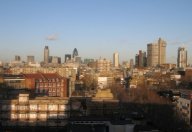 With less than a year to go until the UK officially leaves the EU, the impact of Brexit has so far not had a significant detrimental effect on the London property market. Whether this continues as the deadline gets nearer remains to be seen, but during 2017 and early 2018 there were many reasons to remain optimistic about the future of the commercial property scene.
In this article, we assess the current state of London's office market and some of the major developments that have recently taken place.
In-Demand
2017 saw investment in London's commercial property market reach near record levels, primarily led by the eagerness of foreign investors to purchase office space. Indeed, the strongest 9 months in history demonstrated how robust the market was.
In early 2018, this trend has continued - demand for Central London offices has risen by 14% in the first quarter of 2018, according to research published by JLL, with the banking and finance sector being responsible for 27% of the active demand
Flexible office space is also proving very popular – perhaps a reflection of the changes in society and the need for a more agile way of working. The flexible workspace industry leader WeWork has just finalised a £58 million stake in London's Devonshire Square site.
Popular Locations
The Southbank is quickly becoming the location of choice for start-ups in the capital. During 2017, venture capital investment into Southbank start-up companies rose significantly, and this in turn created a surge in demand for office space, with a 133% increase in the number of leases signed compared to 2016.
More established firms, especially in the tech sector, are now choosing to be based in London City rather than on the fringes, such as their traditional favoured location of Shoreditch, while demand for space in the West End is also rising – the number of finalised commercial office leases is the strongest since 2012, mainly due to businesses appetite for larger units.
Available Premises
With the London property market remaining strong, it can be difficult to achieve the ideal balance of affordability and a good location when searching for office space. At Pall Mall Estates, we have built up a portfolio of premises that satisfy both these necessities.
Lancaster House is situated in Southwark, adjacent to the Ministry of Sound nightclub, and a stones throw from the popular Southbank. This 7 storey building has a ground floor reception area, and office suites on 6 levels, making it a great HQ facility or ideally suited for use by a co-working provider.
We also have offices available in the iconic jewellery quarter of Hatton Garden – an increasingly popular choice amongst media companies and creative start-ups. There are spaces to lease in a multi-storey office block which enjoys lift access. Transport links to the site are also excellent - Chancery Lane and Farringdon stations are within a few minutes walk of this property.
— Pall Mall Estates have a wide range of low cost commercial properties across the UK.

Take a look at our available spaces here or get in touch with our experienced team here.