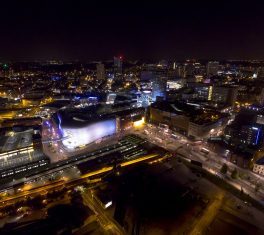 A recent Pall Mall Estates survey of business owners and managers in and around Birmingham found that almost three-quarters (71%) anticipated their respective companies to grow in line with the UK average or experience above average growth in the next five years.
The study, which was carried out to determine the views of the Second City's business community ahead of the impending HS2 rail project - providing high-speed rail links to London and the north of England - found that momentum and positivity is building regarding the prospect of HS2 for the West Midlands as a whole.
In November 2017, Birmingham was named the UK's 'most improved city', following independent research by PricewaterhouseCoopers and think-tank Demos, taking into consideration transport infrastructure, work-life balance, inequality and income levels across 42 of the UK's biggest cities.
Both Walsall and Wolverhampton were named joint-eight in the 'most improved city' category, as the region prepares itself for HS2 which will improve transport infrastructure for industries, making the West Midlands a more attractive and accessible place to do business.
"It [HS2] will have a huge impact. There is major development in Birmingham city centre already linked to HS2. The extension of the city's tram system will also help. The city centre and other major development areas such as Solihull will benefit most," said one survey respondent.
Another respondent believes that HS2 will give businesses throughout Birmingham and the West Midlands the opportunity to employ the right professionals for their respective organisations from further afield.
"HS2 will hopefully provide us with additional options when training employees and make hiring easier by increasing our talent pool," they said.
Almost half (49%) of survey respondents believe that HS2 will benefit trade in Birmingham, followed by professional services (48%) and the leisure and tourism industry (35%).
The UK government is keen for the Midlands to become a "growth engine", made up of local authorities and local enterprise partnerships, designed to upskill professionals in the region. HS2 will play a central role in the Midlands engine vision. The new £500m Birmingham Curzon train station will provide direct rail links to the new HS2 hub in north-west London at Old Oak Common.
Meanwhile Birmingham's Smithfield regeneration project is one of the most ambitious and attractive city centre developments in the UK, creating vibrant new retail, cultural and transport facilities.
Jerry Blackett, CEO, Birmingham Chamber of Commerce, said: "By shrinking the appreciable distances between our engines of growth, our cities, and by dramatically boosting the capacity on our railways, our economy will reap the benefit.
"Our HS2 stations in Eastside and at the Airport and NEC must be clear and confident statements of intent from a bold and ambitious city."