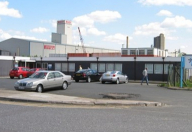 Do you have a business looking for storage space near London? We have three industrial units that have just come onto the market. Situated in Bexley, Kent, the premises present a cost-effective option for companies needing a base in the South East of England.
Read on to discover how this well-located site could benefit your business.
The Premises
There are three available units that are suitable for use as either workshops or storage units, and there is also a generous surfaced yard area covering 1.9 acres in total. Each unit is of a metal-framed construction, with attractive metal profile cladding.
The largest building has a 'barrel-style' roof and a large sliding door for full-height access, while the remaining two properties have flat roofs with inset translucent panelling. This allows natural light to flood into each unit.
Office accommodation is provided through the on-site Portakabins, meaning a business can perform all its operations on a single site. In addition, there is ample parking and a large storage yard, providing easy access for deliveries and visitors.
The main features:
- Situated in an established industrial area
- Suitable for mixed-use
- A large outdoor area
Location
The units are located in Crabtree Manor Way in Belvedere, a mainly industrial area in Bexley, Kent. Just 4 miles east of Woolwich and 2 miles north of Bexleyheath, the site boasts excellent connections to South London and beyond.
Top retail companies including Amazon, Lidl, and Ocado have distribution warehouses on the same estate - giving an indication of the popularity of this sought-after location!
The River Thames is nearby, and Belvedere town centre has a wealth of amenities for employees. Within a few minutes walk you can find a large Asda superstore, and a number of shops, cafes, and leisure facilities. Historic Abbey Wood with a huge amount of green space is just over a mile away.
Transport Links
For those businesses seeking rapid access to the South Coast, London, and East Anglia, the units could not be better situated. Far enough from London to avoid the congestion, but near enough for deliveries and meetings in the capital, both road and rail links are good.
The M25 is a few miles from the premises, and Crabtree Manor Way leads directly onto the A2016 dual carriageway, which in turn joins with the M2 - both the Blackwall and Rotherhithe tunnels are short drives away.
Belvedere railway station can be reached on foot within a few hundred meters, providing a quick, convenient link to London - there are frequent fast trains to London's Cannon Street taking 35 minutes, and Dartford is just a 13 minute journey. Buses also run regularly into London.