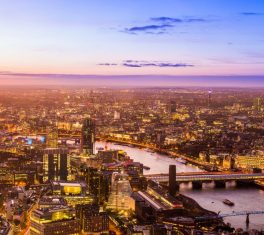 The capital's commercial property market is expected to be more buoyant in 2020, after the end to political uncertainty in the UK. The Conservatives' overwhelming majority in Parliament has broken the impasse on Brexit and subsequently investors in London's real estate believe the next 12 months will bring an end to stagnant property values and office demand among growing businesses.
According to data from CBRE Group, although office demand has been somewhat flat in recent quarters, it has been resilient overall, defying pre-EU referendum forecasts of a significant decline in the outcome of Brexit.
Nevertheless, despite continued demand for workspace across the capital, rents have been supressed given the political uncertainty regarding the prospect of a new Labour government and a potential second EU referendum. The number of property deals completed in 2019 was also significantly down on 2018 and indeed 2017.
One of the main areas of the capital that's bucked the commercial rents trend is the City of London, where rents have actually risen slowly throughout 2019 and defied market forecasts, towards the £65-£70 per square foot mark. The City of London area is known colloquially as the Square Mile, 2.90 km2 of space that spans much of London's financial district and cultural scene.
Without question, the City of London offers an exciting place for any ambitious, growing business to expand. It's home to a diverse mix of national and multinational businesses and organisations, including hundreds of influential high-street banks and alternative finance companies. When it comes to attracting fresh talent to your business, nothing beats having a cool business address. A City of London postcode indicates to prospective professionals that your business is well-established and a serious outfit.
What's also great about having a business premises in the City of London is its connections. Not only does it offer outstanding transport links across the capital and further afield, it also provides access to a high quality of life, thanks to its plethora of attractions, amenities and eateries ensuring a great place for recreation as well as hard work.
At Pall Mall Estates, we recognise the benefits of owning and managing low-cost, high-value business space for growing businesses in the City of London. We have several well-situated offices and studios just waiting for new tenants to make their mark. They're not just located in EC postcodes like Hatton Garden either.
We've developed a portfolio of versatile workspaces across Greater London that offer unique heritage and character, as well as plenty of logistical advantages. Whether you prefer the idea of being based north or south of the Thames, we've got prime units available to let on flexible lease terms from as small as 300 sq ft to vast 70,000 sq ft headquarters.
If 2020 is the year your business decides to take the plunge in Central London, choose Pall Mall Estates as your next commercial landlord. If you'd like more information on our available premises to rent in the capital, please don't hesitate to call our friendly, experienced property agents on 020 8108 7142 or drop us a line using our online enquiry form.
--
Pall Mall Estates have a wide range of low cost commercial properties across the UK. Take a look at our available spaces here or get in touch with our experienced team here.