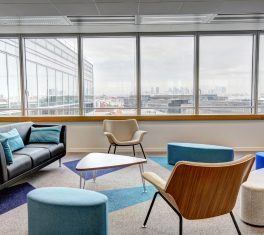 When you are looking to expand your business premises or simply make a sideways move to newer, better-suited office space, it's important to choose a working environment that works for you and your staff.
Choosing between serviced and conventional leased office space is one of the main decisions you'll have to make as an owner of a growing small business. A serviced office is a commercial property that's fully fitted with office furniture, amenities and IT infrastructure, while leased office space is seen as more of a blank canvas from which to work from.
Typically, serviced offices will be rented from a management company, which oversees the maintenance and upkeep of all essential amenities in your office. On the other hand, leased offices will be leased from a commercial landlord.
Keen to know more about the benefits and drawbacks of working in serviced and non-serviced office space? Read on to find out more!
The pros of serviced office space
Ideal for minimising up-front expenditure


When renting a serviced office, you are paying for all the office furniture, equipment and infrastructure to be in place prior to moving in. It's a ready-made working environment for your business from day one. If you don't have much capital, it's a way of keeping a lid on initial expenditure.

Short-term flexibility


Lease periods tends to be shorter than conventional leased offices. This is handy for those working on short-term contracts or unsure of how successful their business will be in the medium-to-long term.
The cons of serviced office space
Difficult to create an office identity or culture


Occupiers of serviced offices tend to struggle with the lack of flexibility regarding their office setup. They don't get to choose furniture or interior designs to match the look and feel of their brand identity, which can be a turn-off for several ambitious entrepreneurs.
Not suitable for firms with lots of visitors


Serviced offices don't tend to be well-equipped for hosting regular visitors and client meetings. Meeting rooms aren't often included as part of a serviced office package, so firms must book meeting space with the management team well in advance. Not ideal for urgent, ad-hoc meetings.
You might be overpaying for the short-term flexibility


The overall cost of serviced offices is far greater than conventional leased office space if you were to extrapolate it over a longer period. You're paying for the convenience of an instant office and the chance to end your agreement at short notice.
The pros of leased office space
Total control over workplace interiors


As we've already said, leased office space gives commercial tenants a complete blank canvas over workplace interiors. Whether it's decoration, furniture, equipment or IT infrastructure, tenants can design the office however they see fit to run their business.
Reduced long-term costs


In the long run, overheads and costs are much cheaper as a leased tenant than a serviced office customer.
Ideal for businesses with a handle on their long-term destiny


If you have a firm view on where your business is likely to head in the next three-to-five years, leased office space is a credible option. It gives you a chance to put some roots down and take full advantage of the facilities available to you.
The cons of leased office space
Initial fit-out expenditure


Admittedly the initial capital expense of decorating, designing and installing equipment, furniture and IT infrastructure is high, but the trade-off is that you are choosing options that are the perfect fit for your day-to-day business tasks.
Full responsibility for rates, utilities and service charges


As a commercial tenant, you will of course be responsible for paying business rates, utilities bills and any applicable service charges.
Let Pall Mall Estates take the strain from your office search
With more than five million square feet of commercial property owned across 125 locations nationwide, we're sure to have a comprehensive choice of leased office space available for you.
Our high-value, low-cost office space starts from just 500 square feet. Check out our available units today, located across the Midlands, London and the Home Counties.
Pall Mall Estates have a wide range of low cost commercial properties across the UK. Take a look at our available spaces here or get in touch with our experienced team here.