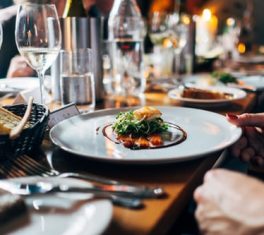 For businesses based in the Warwick area, it's quite possible that you will regularly entertain clients and prospects in the town. Warwick's central, easily accessible location makes it easy for clients to fly in via the nearby Birmingham International Airport, drive via the nearby M40 or catch the train along the Chiltern Main Line.
The Wedgnock Industrial Estate is less than a mile from Junction 15 of the M40 and the A46 Warwick bypass and only one-and-a-half miles from Warwick Parkway station. Businesses located in this business park can avail themselves of the following five restaurants in Warwick, offering ample space and sophistication when it's important to make the perfect impression for a business meeting: 
Tailors Restaurant (22 Market Place, CV34 4SL)
Located in Warwick's picturesque Market Place, Tailors Restaurant is a charming bistro, with a menu brimming with locally sourced and foraged ingredients. The restaurant's owners place huge emphasis on flavour and their contemporary twists are guaranteed to stir the senses and deliver a culinary 'wow factor' with clients. Lunch sittings are available from Wednesdays to Saturdays (12pm-1.30pm).
Giggling Squid (1-3 High Street, CV34 4AP)
Following significant renovation and restoration of this High Street restaurant, the Thai-chic food chain, Giggling Squid has finally arrived in Warwick. Delivering fragrant and authentic Thai dishes, Giggling Squid's menu is tailor-made for sharing, with tapas-style morsels on tap. The tranquil and contemporary décor is also well-suited for both formal and informal business meetings.
La Mesa (5B Old Square, CV34 4RA)
For hearty, wholesome and vibrant Spanish cuisine, look no further than La Mesa. This family-run Spanish restaurant offers a more laid-back, informal environment, with no white tablecloths. According to the restaurant's website, the dishes are "never arranged on the plate with tweezers" either. Tasting menus are available each day, paired with an excellent choice of wines.
Robbie's Restaurant (74 Smith Street, CV34 4HU)
Contemporary British cuisine is what sets Robbie's Restaurant apart, with a friendly, sociable eaterie that's ideal for informal catch-ups with existing clients or indeed team building events with colleagues. Although there may be more glitzy and glamorous dining alternatives in the town centre, Robbie's Restaurant offers a varied menu, consistently good food and first-rate service that helps meetings and events flow like a breeze.
Micatto (64 Market Place, CV34 4SD)
Since 2012, this humble Italian restaurant has been showcasing a menu boasting authentic influences of regional dishes served throughout Italy. With Italian chefs in-house, an inviting open kitchen with nothing to hide and an intimate atmosphere, Micatto is an excellent choice for impressing clients and prospects in the heart of Warwick's historic Market Place.
Warwick offers plenty of strategic benefits as a business base. Not only is it a stone's throw from the highly-acclaimed Warwick University and its thousands of high-performing students, it's also a town with excellent connectivity to the rest of the Midlands via the M40 and A46, as well as its rail links into London via the Chiltern Main Line.
Some 2,500 sq ft of office space is currently available to let at the Wedgnock Industrial Estate near the Warwick Technology Park. For more detailed information on the available unit or any other workspaces in the Warwick area, please don't hesitate to contact our friendly, experienced property agents today on 020 8108 7081 or fill in our online enquiry form to get the ball rolling. 
--
Pall Mall Estates have a wide range of low cost commercial properties across the UK. Take a look at our available spaces here or get in touch with our experienced team here.