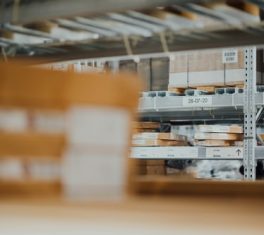 When it comes to running a fully functioning trade counter, the number-one priority is to get your customers exactly what they are looking for as quickly as possible. A good wholesaler or distributor is someone that can make their shop front look like an organised, tranquil environment, while the behind-the-scenes work of replenishing and organising stock goes on behind closed doors in the warehouse.
Let's take a look at the nuts and bolts that go into a trade counter that flows both for your customers and your business going forward:
Space for a strategic shop front
It doesn't matter whether you are a plumbing supplier or a DIY counter for general supplies, the main requirement for a successful trade counter is enough space in the shop front to strategically lay out your goods in a clear, organised fashion. Some trade counters have been known to be far too cluttered, hiding the goods prospective customers need and forcing them to go elsewhere. Just like a high-end boutique, your trade counter needs to be able to catch the eye of your customers and appear anything but claustrophobic and busy.
Visual branding and marketing
You'll also need sufficient internal and external space to position marketing and brand messaging throughout your trade counter. This will help highlight short-term promotions, offers or new product lines that can be upsold to customers. Having the space to position A-boards and pavement signs outside your trade counter and within view of nearby car parks can also help capture the attention you need.
Robust storage for product displays
Of course, depending on the kind of products you want to display in the shop front of your trade counter, you'll also need space for robust, modular storage such as shelving and freestanding units that have sufficient capacity load so as not to buckle or bow and cause a safety risk to customers.
Warehouse space enough for a well-oiled stockroom
Aside from what happens at the front of your trade counter, you also need to think carefully about the logistics of what's required at the back. Stock is the beating heart of any successful trade counter, so you'll need to ensure that your shop front is attached to some kind of warehouse unit capable of safely housing and organising products, with a system that makes it easy to pinpoint low-stock items for replenishing. 
When it comes to replenishing stock, your trade counter should also be easily accessible. Ideally, your warehouse should have loading access, making it easy to unload and stock new items from suppliers and manufacturers.
If you want a readymade trade counter to let and move into, with the space and on-site facilities you need to build or enhance your customer base, browse our available trade spaces for rent at Pall Mall Estates.
With premises offering floor space up to 80,000 sq ft, our hand-picked trade units are ideally situated to build valuable links as a supplier or distributor. For more information on any of our available spaces, call our friendly, experienced team today on 020 8108 7161 or drop us a line using our online enquiry form.
--
Pall Mall Estates have a wide range of low cost commercial properties across the UK. Take a look at our available spaces here or get in touch with our experienced team here.