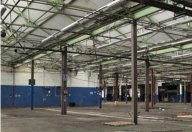 When choosing to open a distribution centre, it is vital that time is taken to ensure that the selected location ticks all the right boxes. Major companies thoroughly research all their sites prior to leasing them, so by analysing their choices, it can give an indication where your base should be.
In this article we discuss the UK's most desirable logistics locations and the reasons why they areso popular.
Milton Keynes
Situated in Buckinghamshire, Milton Keynes makes a very attractive distribution base. The M1 can be reached within minutes - providing easy access to the high-income London market and straightforward connections to the Midlands, and Europe via Dover.
Leasehold and property purchase costs are significantly lower than London, as are the salaries paid to employees. This combination of positive economic factors has seen the city become popular withsome of the biggest names in retail.
Amazon have a major distribution centre in Milton Keynes, as do John Lewis, Waitrose, and thesupermarket giant Tesco.
The Midlands
Perhaps the most famous logistical area in the UK is the 'golden triangle' that encompasses parts of the West and East Midlands. The reason for the popularity of this region is simple - 90% of the UK population can be reached within a 4 hour drive.
Major motorways that are in close proximity include the M6, M5 and the M1 - giving quality transport links in all directions. Because of this, the Midlands has the largest amount of warehouse space in Britain, more than twice that of Wales, Scotland, and London combined!
Wednesbury near Wolverhampton is home to large distribution centres for Amazon and Lidl, while Sainsburys and Tesco have bases in Birmingham and Lichfield respectively.
If you need a distribution facility in the heart of England, then this area definitely needs to be considered.
Doncaster
Doncaster and the South Yorkshire region has caught the attention of companies seeking fast delivery times to the North of England, and is rapidly developing itself as favoured logistic allocation.
Asda, IKEA, B & Q and Tesco all have distribution bases in and around Doncaster. In addition, Amazon has a large fulfilment centre nearby, and the main UK warehouse for ASOS is a few miles away in Barnsley.
Doncaster has both air and rail freight terminals, and the port at Hull makes international shipping simple. Road links are also excellent - the M1, M62, and A1 are all within easy reach.
At Pall Mall Estates, we have a large portfolio of warehouse premises throughout the UK, with properties currently available in Milton Keynes and the Midlands 'golden triangle'. Take a look and act quickly to secure a viewing before they are snapped up:
- Milton Keynes - HQ facility with warehouse and adjoining office block.
- West Midlands (Wolverhampton) - Three warehouse units and a large service yard.
- West Midlands (Lichfield) - Significant warehouse premises spanning 157,000 square feet.