Top tips when opening a new retail store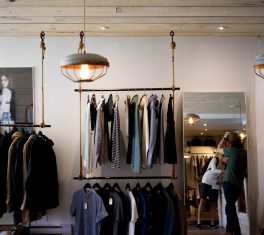 If your dream of owning and running your own shop is nearing reality, you'll no doubt be excited about the entrepreneurial journey ahead of you. Whoever said that setting up a new retail store is easy was lying. It takes a lot of hard work and logistical preparation to make the necessary impact and create your very own 'niche' in the marketplace.
Given the rapid proliferation of e-commerce, smaller retailers are having to be even cleverer about how they choose their new retail outlets. Of course, there are many aspects of the shopping experience that can't be replicated online, and it's important that fledgeling retailers like you try to tap into those to turn new customers into repeat customers and repeat customers into brand advocates.
With that in mind, here are five thought-provoking tips to help you along your way to opening a brand-new retail store:
Be clear on your unique selling point
If you can't decide what helps your retail outlet stand out from the crowd, you're going to struggle to convince prospective customers to come in through the doors. Defining a unique selling proposition for your retail business is hugely important, particularly in crowded industries. Whether it's a more personalised customer service or added-value services that your competitors don't make the effort to provide, you need to do something that sets you apart from the rest.
Know your market
It's important that you have your finger on the pulse of industry trends. Keep a close eye on what your competitors are doing and whether you can replicate – or better – what they are doing. Don't be afraid of 'copying' what your competitors are doing. There are many industries where businesses offer the same services and still thrive due to the sheer size of the marketplace.
Location, location, location
Footfall is everything when it comes to launching a successful retail store. Poor accessibility or awkward positioning can be an instant turn-off for your target demographic. Prime retail space needs to be the focal point for any new retail brand. Although it might be somewhat pricier to rent in an area with substantial footfall, it should more than pay for itself if you can get people through the door and buying at the tills. Consider retail units that are in close proximity to transport networks, as well as major car parks and park-and-ride services that help to put your store on their radar.
Focus on a beneficial store layout
It's important not only to understand what your customers want to shop for but how they want to shop for it. Designing a store layout that is conducive to consumer engagement, allowing them to get a feel for products and services, is key. Furthermore, it's always a good idea to consider the positioning of items near the tills for impulse buys that can all help to improve your bottom line.
Always have retail regulations uppermost in mind
First and foremost, you need to ensure your goods are compliant with the Sale of Goods Act, the Supply of Goods and Services Act and the Sale and Supply of Goods Act. It's also vital that your new retail store adheres with UK health and safety regulations. In terms of insurances, you'll want to guard against customer injuries in-store and as a consequence of your products or services. Public liability, product liability and employers' liability insurances should be your number one priority.
Browse our available retail units to let nationwide from Pall Mall Estates
At Pall Mall Estates, we have commercial retail space that works for both small owner-managed businesses and multi-national suppliers too.
Take some time to browse our available retail space located across London, the south-east of England and the Midlands.
For more information on any of our available retail units or to discuss your unique requirements, please don't hesitate to contact our team today on 020 8023 5900 or drop us a line using our online enquiry form.