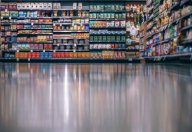 The most productive warehouses in the world take advantage of modern technology to drive productivity and vastly improve their business performance. Although the artificial intelligence and robots used by retail giants like Amazon will be too expensive for smaller companies, there is still an abundance of new technologies that could and should be utilised.
The era of walking around the warehouse listing stock with a pen and paper are gone, or at least should be if you truly want to grow your business.
Modern technology can deliver many benefits - optimising the warehouse layout, creating picking routes, and reducing labour costs are just some advantages.
Read on to discover how software, apps, and mobile computers can create a smarter warehouse environment.
Software Management Systems
To streamline all your warehousing operations it is essential that some form of warehouse management system is used. Software can be utilised to track inventories, manage orders, and even to schedule shipping.
These types of systems may prove very expensive, but there are still affordable options available to small business owners too. Snappii provide a range of apps starting from $15 per user per month, and Clarus sell their warehouse management software for £250 per month, while offering a 30 day free trial period.
Using the right software programme will have a big impact on business productivity and profits, but we would always recommend trying a free trial before committing to a longer contract.
Health & Safety Factors
Modern technology can also make warehouse premises a safer place for employees and visitors. As it improves health and safety standards, a reduction in staff absence and compensation claims for accidents may result.
Anti-collision sensors and motion detectors can be sited around the warehouse, warning the building occupants and forklift truck drivers when a collision is likely to occur. In addition, sensor technology can be fitted to warehouse racks, alerting management to any damage so that it is quickly repaired.
Here are a few more situations when sensors will prove invaluable:
• Alerts are issued when doors are about to close
• Alarms sounding when people enter a specific area
• Audible warnings when machinery passes close to a wall or roof
Mobile Equipment
Mobile devices and equipment save a massive amount of time as employees can take their required tools with them. Mobile-powered workstations avoid workers taking thousands of unnecessary steps every day, which seriously enhances their productivity levels.
The use of tablets gives employees real-time data which informs them of production goals and the KPI's that they need to hit. Management can send information directly to a tablet, without the need for the employee to walk to the office for their tasks.
Mobile barcode scanners are another must-have tool. Again, these systems sometimes form part of comprehensive warehouse management software, but stand alone apps can also be used. The Scandit app is an excellent product.
When considering how to implement new technologies into your warehouse, it is worth investing in quality products if possible. The upfront costs will be larger, but cheaper equipment tends to be more unreliable.
— Pall Mall Estates have a wide range of low cost commercial properties across the UK.

Take a look at our available spaces here or get in touch with our experienced team here.