Why Chatteris is a great place to do business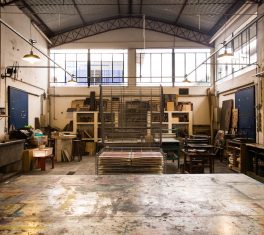 Chatteris is situated in north-east Cambridgeshire. This quaint market town is a prominent part of the Fenland region, which has a combined population of just over 100,000 people. Although it is often considered a commuter town for nearby towns and cities elsewhere in Cambridgeshire, Chatteris is also a credible base for any light industrial business seeking value business space and outstanding road links.
The town's fertile land makes it rife for the region's agriculture sector and there are plenty more industries choosing Chatteris and the rest of the Fens as a base from which to grow. Let's take a look at the unique benefits a business hub in Chatteris could afford your business:
Below average commercial property rates
According to the Fenland for Business portal, operated by Fenland District Council, rentals for commercial property and land are below the national average. The area is also traditionally an area of low wage costs for employers. This ability to keep overheads low fosters a strong success rate for new start-ups in the region too, with over 70% of businesses formed in the last five years across Chatteris and Fenland still actively trading.
Four key industrial hubs
There are four primary industries that exist in and around Chatteris and the Fenland region – agri-food, financial services, wholesale and retail, and manufacturing. It's no surprise that the town has strong links to agri-food and is home to many household brands. The town's economy also includes manufacturing specialisms including precision engineering and metal fabrication.
Exciting regeneration projects are afoot
The local council is investing heavily in towns across the Fenlands. The Wisbech 2020 Vision was unveiled in 2016, with the aim of becoming a Garden Town – an initiative which looks to extend upon an existing town, whilst improving its eco-efficiency and transport connectivity.
Access to a sizeable talent pool across Cambridgeshire
Chatteris is at the heart of Cambridgeshire and its central location is a major strength for business located here. Aside from excellent road links to the A14 and A1(M), Chatteris is also a stone's throw from Manea train station, which is securing a growing number of stops on the Ipswich-Peterborough and Cambridge-Peterborough rail routes. 
The town's proximity to the likes of Cambridge and Peterborough ensure a broad-based talent pool for employers to choose from, spanning skilled professionals and ambitious graduates from some of the world's most prestigious universities. According to Fenland District Council, Chatteris has the highest proportion of skilled professionals living and working there out of all four Fenland market towns (Chatteris, Whittlesey, Wisbech and March).