Why Coventry is a great location for businesses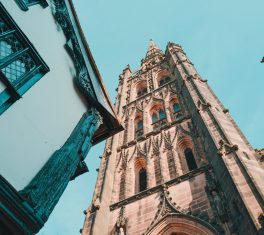 If you are considering setting up or moving your business in the West Midlands, there are few better cities in the region in which to thrive than Coventry. In 2017-18, the Barclays SME Growth Factors Index actually ranked Coventry as the third best city in the UK for start-up environments, behind Bradford and Leicester.
There are various compelling reasons why Coventry has become a natural choice for new and growing businesses. This article is geared to shining a spotlight on all that's good about Coventry in terms of support for entrepreneurs and well-established businesses alike.
A supportive, growing talent pool
The city of Coventry is benefitting from a highly skilled, diverse pool of talent. It's a city that prides itself on academic excellence, with two universities based here. Both Coventry University and the nearby University of Warwick invest a lot of time in nurturing young talent, working with local businesses to create a funnel for graduates to start their careers and make a difference to growing firms in all manner of sectors.
There are plenty of industry 'hubs'
Did you know? Coventry is home to the third-biggest concentration of gaming companies – after London and Dundee. At a local level, Coventry is fast becoming labelled 'Silicon Spa' for its emergence of specialists in the video game industry.
Coventry is also the home to industry leaders in advanced manufacturing, with specialists in aerospace, low-carbon technologies and autonomous vehicles helping to redefine the opportunities for UK exports.
Benefit from access to grants and funding
New businesses situated across Coventry can depend on financial support from the Coventry and Warwickshire Chamber of Commerce, which is committed to offering small grants to local start-ups. The Chamber of Commerce doesn't just provide financial support either, it offers guidance and support every step of the way.
The Coventry Investment Fund also offers substantial finance to growing firms looking to create jobs in the city through major projects to enhance and expand business premises.
Easy access to the 'Second City' and the capital
Commercial rates in Coventry are much cheaper than in the nearby 'Second City' of Birmingham, but businesses in Coventry also benefit from being just 20 miles from the heartbeat of the Midlands. Coventry is well-placed for access to Birmingham and beyond with close proximity to the M6, M69 and M40. The city's railway station is equally well-served by the West Coast Main Line, offering regular direct services to Birmingham, London and the South West.
Highly competitive commercial property rates from Pall Mall Estates
The city of Coventry and its businesses have benefitted greatly from significant redevelopment in recent years. As a proud city with a rich, diverse cultural scene, Coventry is a vibrant place for any business to land and expand. With a host of industry clusters recognising the potential in Coventry and the West Midlands, this is your chance to surround your business with like-minded professionals.
One of the reasons why Coventry appeals to small businesses is the city's commercial property rates that are comparatively cheaper than nearby Birmingham. At Pall Mall Estates, we have a string of office units and industrial spaces waiting to be filled across the city.
If you'd like to know more about our commercial property to let in Coventry, don't hesitate to call our friendly, experienced team today on 020 8108 7295 / 020 8108 5391 or get the ball rolling by emailing via our online enquiry form.