Why Derby is a great place to do business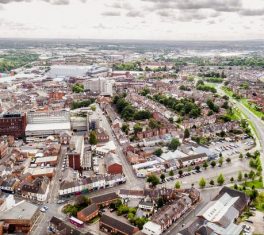 Are you searching for a new headquarters for your business in the East Midlands area? The city of Derby should be front and centre as one of your first-choice locations. Derby is a city that has long held a proud tradition of manufacturing, primarily in the automotive and rail industries, with major corporations such as Rolls-Royce and Bombardier operating here. It says a lot about the region that these brands remain today, along with many others, breathing life into the Derby economy.
Intrigued about the commercial benefits of basing your business in Derby? Here are the key talking points for you to digest:
A city with over £4bn of investment in the last decade
There is a genuine sense that Derby is a city on the rise. In the last ten years, Derby received more than £4 billion of investment into infrastructure projects for the city and its businesses. A further £2.3 billion of investment is already in the pipeline to drive more change and growth in the region. Indeed, the Financial Times has since labelled Derby an "economic success story" of the post-recessional decade.
A truly hi-tech workforce
We've already touched upon the fact that Bombardier and Rolls-Royce remain key employers in the area. In fact, Rolls-Royce has since developed its civil aerospace and nuclear headquarters in the city. Meanwhile Bombardier's hub, which designs and builds new trains for rail networks across the UK, is now considered the world's biggest rail cluster.
Combine that with the arrival of Toyota UK and these three major corporations alone employ over 22,000 people in Derby, fostering a highly-skilled workforce in the area. It's said that 11.8% of Derby's workforce are employed in hi-tech roles, four times the national average, so it's clear the city is a hub for tech innovation.
Superb road, rail and air connectivity
Derby is a city that benefits from being in close proximity to several other major cities across the UK. In the Midlands, Derby is closely linked by road and rail to Nottingham, Leicester and Birmingham, as well as Stoke-on-Trent. Meanwhile Derby's mainline railway station is less than 90 minutes from London St Pancras. Derby is also just 20 minutes from East Midlands Airport, which is particularly beneficial for those entertaining clients from overseas or venturing abroad to explore untapped markets.
Derby's evolving cityscape
The city centre of Derby is also an area that's experienced significant investment and regeneration in recent years. This has enabled the city to become a more vibrant, diverse place for young professionals to work and live. Whether it's the historic Cathedral Quarter or the contemporary amenities in and around the city's intu Mall, there's something for everyone to enjoy out of working hours.
Discover our commercial properties to let in Derby
If you'd like to know more about our available business space, owned and managed by Pall Mall Estates, in the heart of Derby, please don't hesitate to contact our friendly, experienced property agents.
Our team can equip you with all the information you need on any of our low-cost, high-value commercial units throughout Derby, all of which are available to rent on attractive, flexible lease terms.
Help your business thrive in Derby by calling 020 8712 8627 or drop us a line using our online enquiry form and we'll be in touch as soon as possible.