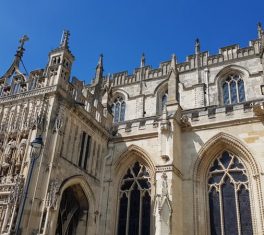 The stunning cathedral city of Gloucester is a stone's throw from the River Severn and is conveniently positioned between the picturesque Cotswolds and the Forest of Dean. Despite its aesthetic charm, there is a lot more to Gloucester than meets the eye, with a thriving economy that's underpinned by the region's innate innovation.
The city is considerably bigger than most people realise, with a population of roughly 150,000 giving businesses access to a healthy pool of talent; not to mention the prospective employees living in Gloucestershire's rural areas within touching distance of the city. If you're a business or start-up in the West Midlands or South West, we've got some very compelling reasons why Gloucester should be on your hit list of potential locations for your next headquarters:
The city has a long, proud history of engineering innovation
Gloucester has been involved in the UK's high-tech engineering industries for around a century. It has been particularly prominent in the aerospace sector, with Brockworth's Gloster Aircraft Company playing a key role in the development of the jet engine. A city centre sculpture pays homage to Gloucester's innovation still today. 
Other leading manufacturing and engineering companies such as Spirax-Sarco, Safran Landing Systems and Renishaw are more prime examples of the county's ability to play world-leading roles in industries such as aircraft landing gear, steam and thermal energy and 3D printing.
Gloucestershire is officially the UK's safest place to live
It's official, the county of Gloucestershire is the safest place to live in the UK. That's according to data from the Office for National Statistics (ONS), which states there were only 40 recorded crimes per 1,000 people in the period of June 2018 to June 2019. This ranks as the lowest rate of crime in Britain, alongside North Yorkshire and Dyfed-Powys in Wales. A safe place to live and work is always a great selling point for businesses seeking to attract senior talent to take their operations to the next level.
The King's Quarter urban regeneration will redefine the city centre
The city centre of Gloucester is also in line for something of a makeover in the coming months, thanks to an £85m scheme to regenerate the King's Quarter of the city. The plans to transform the King's Quarter are designed to increase footfall in Gloucester city centre, encouraging fresh investment and cementing the area as a destination in its own right.
Well-served for transport connections
Although Gloucester may be considered a somewhat rural city, its road, rail and air links belie its geographical location. The city benefits from direct access to the M5 motorway via Junctions 11, 11a and 12, providing easy access to Bristol to the south and the West Midlands to the north. Gloucester's central railway station is also well-served by trains into the capital, via other major towns and cities such as Cardiff Central, Nottingham, Reading and Birmingham. International airports at Bristol and Cardiff are less than 40 and 60 miles away respectively, while Gloucestershire Airport also offers an alternative for private charter flights.
Discover our available business space to let in Gloucester
At Pall Mall Estates, we own and manage low-cost, high-value workspace in some of the UK's most desirable business locations, including Gloucester. With vast, flexible office layouts, conveniently located for the city's public transport and road links, we can provide a convenient and cost-effective base to help you take your business forward in the South West.
For detailed information on our available commercial properties to rent in Gloucester, such as our five-storey office on London Road, please don't hesitate to contact our friendly, experienced property agents today on 020 8108 7267 or complete our online enquiry form to get the ball rolling.
--
Pall Mall Estates have a wide range of low cost commercial properties across the UK. Take a look at our available spaces here or get in touch with our experienced team here.