Why Manchester is a great location for businesses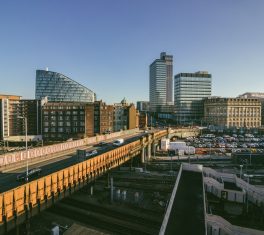 Manchester has enjoyed tremendous growth in recent years as this north-west city has undergone a hugely impressive cultural and digital transformation, cementing it as the leading creative hub for start-ups in the north of England. It's therefore little wonder that Manchester has earnt the tag of the 'Shoreditch of the North'.
Whether you're looking to start a new business in the north-west or migrate an existing business in the 'Northern Powerhouse' region, there are many reasons why Manchester should be top of your hit-list of possible destinations for your business headquarters:
A top-ten city for global connectivity
Manchester was ranked the seventh best connected city on the planet in the 2018/19 FDI Global Cities of the Future report. It's easy to see why too. This city boasts a plethora of transport networks, including the UK's most comprehensive tram network, two mainline railway stations and an international airport that regularly serves major business hubs like Singapore, San Francisco, Hong Kong and Dubai.
The city is also just two hours from the capital, London, by train and its motorway network ensures other economic powerhouses in the North and the Midlands are within easy reach by car.
Up to 40% cheaper operating costs than London
While the cost of living is approximately 30% cheaper in Manchester than London, Manchester's operating costs for businesses are also as much as 40% less than those based in the capital. That's according to the Invest In Manchester organisation, which also underlines the city's acknowledgement as one of the top 50 most liveable cities on the planet by the Economist Intelligence Unit.
Tap into a collective student population of 100,000+
Manchester is one of the UK's biggest university hubs, with five universities within Greater Manchester. It is said that the city is home to more than 100,000 students throughout the year. This also means that businesses can draw on a substantial talent pool of graduates, some of which have been educated and harnessed at the most prestigious institutions in the country like the University of Manchester.
A city that fuses state-of-the-art tech and creativity
The epicentre of Manchester's new creative, digital identity is MediaCity UK. Its ambitious development was enough to entice even the BBC to move its operations from London to Manchester. Its position as a world-leading hub for tech innovation has been cemented by the news that Amazon is establishing a Manchester base, creating 600 new 'Silicon Valley' roles. With a wealth of digital knowledge and expertise in Manchester, it's a great platform for new tech start-up to thrive.
Find your new business premises in Manchester with Pall Mall Estates
Looking for a commercial and cultural focal point for your business? Make Manchester your new base thanks to our great range of office and industrial space in and around the city. With flexible lease terms and highly competitive rents, it's easy to see why Manchester is one of the fastest-growing economic hubs in the UK.
To discuss your requirements and find out more about our availability of commercial property to let in Manchester, call our friendly, experienced team today on 020 8108 7267 / 020 8023 9141. Alternatively, you can email us via our online enquiry form.