Why Nottingham is a great place to do business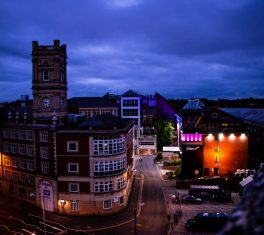 Nottingham used to have a proud reputation for lace-making and bicycle manufacturing, but the 21st century version of this East Midlands conurbation is experiencing growth in all manner of sectors to drive the Nottingham economy forward.
Whether it's digital media, IT, life sciences, carbon-friendly technologies, financial services or light industry, there's literally nothing that Nottingham's business community can't turn its hand to. If you're wondering whether Nottingham could be a suitable place to base your new or growing business, read on as we explain why this city has so much potential.
A university city with employability at its heart
Nottingham boasts not one but two impressive universities – the University of Nottingham and Nottingham Trent. Both of which work hard to ensure that graduates remain in the city and enhance the talent pool for employers through the Universities for Nottingham scheme.
The city also benefits from being right at the heart of the country. It's only 90 minutes from London and a similar distance from the Northern Powerhouse. Transport in and around Nottingham's city centre is also made easy thanks to a great-value tram network. The cost of living in Nottingham and much of the East Midlands is also considerably cheaper than London and the South East which, along with the city's vibrant entertainment and nightlife, is a great mix for young professionals looking to forge a career.
Start-ups and scale-ups benefitting from the city's incubators
According to a recent report from Paymentsense, Nottingham was regarded as the UK's second-best city in which to start a business after first-placed Sheffield. The report points to the fact that the survival rate of start-ups lasting more than five years is an impressive 43.4%, which is a percentage only bettered by Sheffield and Bristol.
The figures suggest that Nottingham's business-led initiatives and programmes are helping to incubate innovative start-ups and give them a platform to flourish.
Innovation oozes out of the Nottingham Enterprise Zone and Creative Quarter
Speaking of initiatives, there are no greater initiatives for innovative, growing businesses and start-ups than the Nottingham Enterprise Zone and the Creative Quarter. The former has helped nurture the Nottingham Science Park, which has rapidly become a world-leading research & development base.
Meanwhile the Creative Quarter is helping to drive all things tech in Nottingham, becoming a genuine hub for the creative and digital sector here. The tech space is certainly growing, with a vibrant community that offers great networking and collaboration opportunities.
Discover our commercial properties to let in Nottingham
Convinced that the East Midlands city of Nottingham could be the next ideal location for your business? At Pall Mall Estates, we own and manage over 4,000,000 sq ft of commercial space across the UK, some of which is right here in Nottingham.
For more information on any of our available workspaces in Nottingham, please don't hesitate to contact our property agents who can fill you in and make informed recommendations based on the unique requirements of your business.
Start your business' next adventure in Nottingham by calling 020 8108 4748 or drop us a line using our online enquiry form and we'll be in touch as soon as possible.