Why Warwick is a great place to do business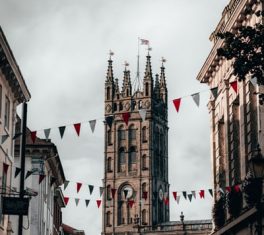 The West Midlands town of Warwick is nestled on the banks of the River Avon. It is famed for its medieval heritage, with its Castle founded by William the Conqueror. As the county town of Warwickshire, Warwick is the hub of commercial activity for the region, bridging the gap between Birmingham and the Cotswolds.
There are many reasons why growing businesses choose Warwick as their next location and we don't mean cultural or historical reasons either:
Close proximity to north-south and east-west motorways
Despite being a relatively modest town in size, Warwick benefits from excellent access to some of the nation's biggest motorways. The M40, which spans from London to Birmingham, connects to the town via Junctions 13, 14 and 15. Warwick also benefits from direct access to the M6 and A14 via the A46, which skirts the south of Coventry.
Warwick's rail links are very strong too, with direct services to London Marylebone station ensuring the town retains good connectivity to the capital as well as the 'second city' of Birmingham. It's Warwick's accessible road and rail links that has encouraged many businesses to choose Warwick as their UK head offices, including multi-nationals such as IBM, Bridgestone and Volvo.
A stone's throw from Birmingham Airport
Warwick also benefits from having direct access to Birmingham's international airport. It's located less than 20 miles to the north of Warwick town centre and can be reached via the M42. This makes Warwick a strong strategic base for those that regularly entertain clients from overseas or looking to travel abroad themselves to investigate untapped markets.
In summary, given the modest population of Warwick (31,000+) it is a well-connected town that also affords an excellent quality of life outside of the workplace; something which will appeal to experienced professionals with families when businesses in Warwick look to expand their workforce.
Home to a leading UK university
Just a few miles north of Warwick sits one of Britain's most reputable universities. The University of Warwick regularly makes the top ten domestic rankings when it comes to research. In terms of employability, Warwick University had the second highest graduate employment rate of any British university in 2017. It's good for businesses in the local area to know they have young, ambitious talent pool of graduates to call upon for the next stage of their growth curve.
Discover our available office space to let in the Warwick area
At Pall Mall Estates, we own more than four million square feet of business space across the UK. Some of that is located in Warwick town centre and in the surrounding areas towards Coventry. We have a string of office and industrial spaces available to let on flexible lease terms on Warwick's Wedgnock Industrial Estate, which is already home to many multi-national companies and boasts easy access to the national motorway network.
For more information on any of our available workspaces in Warwick, please don't hesitate to contact our property agents, who can put you in the picture. Call our friendly, experienced team today on 020 8003 0812 or drop us a line using our online enquiry form.