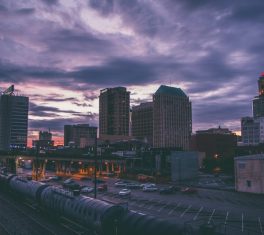 Wolverhampton is a city in the heart of the Black Country, a region of the West Midlands that became a major hub for steel production, coal mining and vehicle manufacturing in the cut and thrust of the UK's Industrial Revolution. Today, the city has a somewhat different outlook as a fully-fledged city, as opposed to the modest market town it once was.
Although its economy is much changed from the early 20th century, there has never been a better time to consider Wolverhampton as a potential base for your new or growing business. Let's take a look at the opportunities available to fledgling entrepreneurs and small business owners in Wolverhampton today:
The rapid rise of the service sector
After the global recession, it was deemed that the service sector had become the dominant industry in the City of Wolverhampton, employing almost three-quarters (74.9%) of the city's workforce. Such service-based hubs in Wolverhampton include finance and IT, distribution – given the city's central location in the UK – travel and tourism and public administration.
Although the service sector holds tremendous sway in Wolverhampton today, it's important to note that its industrial roots haven't been entirely lost. There is still a beating heart of engineering and aerospace businesses present in the city.
Close-knit network of business support
For small and medium-sized enterprises (SMEs) new to the Wolverhampton area, it's reassuring to know that there is a close-knit support network of organisations ready and waiting to fight your corner. The Black Country Growth Hub is a particularly popular focal point of contact for providing specific expertise and advice, while the SPARK Business Incubation Hub and the Black Country Chamber of Commerce are also vitally important for new and growing businesses keen to forge new links and partnerships.
An area of rich, cultural diversity
Wolverhampton is a city widely regarded for its cultural diversity and thriving hub for arts and live entertainment. As the second largest conurbation in the West Midlands after Birmingham, Wolverhampton is also home to a rich pool of talent. The University of Wolverhampton operates its own Enterprise Department, designed to foster entrepreneurial mindsets in ambitious professionals. Meanwhile the university's SPEED Project also operates drop-in sessions for budding entrepreneurs to discuss business propositions and challenges for established businesses with leading business consultants.
Centralised location within reach of many other business hubs
Combine this hugely varied pool of talent and thriving industries with a central location and you are onto a winner with Wolverhampton. The city is situated a stone's throw from the M5, M6, M42 and M54 motorways that can connect businesses here to the south-west, south and east of England by road. Meanwhile Wolverhampton is also on the West Coast Main Line, which is well-served by rail services to Birmingham, Manchester and London. The city has also heavily invested in its public transport with a brand-new £132m transport interchange that's created a single hub for rail, road, bus and metro connections. 
Speaking of connections, Wolverhampton is also rare in that 93% of the city's homes and businesses are already supplied with super-fast broadband, so if connectivity is a must for your new business headquarters, this city has the lot, with plans also afoot to extend high-speed fibre broadband to even more businesses in the Black Country.
Discover our available business space to let in Wolverhampton
Hopefully this article has opened your eyes to the commercial possibilities in Wolverhampton. At Pall Mall Estates, we own and manage millions of square feet of commercial property across the UK, some of which is in the heart of the Black Country.
We have a great choice of self-contained industrial units available to let on flexible lease terms. If you'd like to discuss our available workspace in Wolverhampton with our property agents, feel free to call our friendly, experienced team today on 020 8108 7081 or drop us a line via our online enquiry form and we'll do the rest.
Pall Mall Estates have a wide range of low cost commercial properties across the UK. Take a look at our available spaces here or get in touch with our experienced team here.