Thinking of doing business in the Midlands? If you're looking for a base that's better connected by road and rail than most other UK towns of its size, Rugby is certainly an excellent logistical choice for any growing business. Let's delve a little deeper into the benefits and amenities that have seen Rugby expand as a hub for a host of different industries.
Connections
Three of our most valuable and versatile light industrial units are located in the market town of Rugby, Warwickshire's second largest town, with excellent transport links across the Midlands and beyond. Newbold Road, Glebe Farm and Swift Park all benefit from having direct road access to the M6 at Junction 1 via the A426, making the town the perfect logistical location for businesses reliant on distribution across the country and beyond.
Rugby is also in close proximity to many other major trunk routes, notably the M1 and M45 motorways. It's a town that is equally well connected to the south and east of England as it is to the north of England.
Aside from its strong road links, Rugby's train station is also situated on the west coast main line, which benefits from frequent services to and from London Euston and Glasgow Central respectively. Campaigners are currently pushing for a more direct 'express' service to be offered, connecting Rugby to the north-west of England more quickly, furthering the development of business relationships nationwide.
In terms of continental and international trade, Rugby is obviously well linked to major motorways that reach the UK's key commercial ports. Meanwhile, the town's train station also benefits from direct rail links to Birmingham International Airport, with flights chartered as far afield as the United States and Dubai.
Nearby Amenities
Once a sleepy market town, Rugby has undergone some impressive changes in recent years, whilst retaining its quaint, somewhat rural feel. The pace of life is extremely relaxed here, with an attractive town centre playing host to many retail outlets – both High Street and independent – as well as independent bars and eateries. The town also boasts a monthly farmer's market. If you're currently located in London, Rugby offers a more relaxed, cost-efficient alternative! 
Whether it's entertaining prospects or business delegates or finding places for your staff members to relax and unwind after a busy day's work, Rugby offers plenty of fine food and drink establishments to cater for all tastes. With upmarket bistros and cocktail bars on the High Street to traditional family restaurants and pubs, Rugby offers a relaxed and enjoyable night out considering the town's modest size.
Local Businesses
Rugby's economy is largely centred around its light industrial roots. The town remains a hub for engineering, having produced gas and steam turbines for decades at Alstom, which remains a huge employer for the town. Rugby's cement industry is also thriving, having expanded it's the Rugby Cement works at the turn of the Millennium. Meanwhile Rugby's 1.5m sq ft Ansty Technology Park is at the forefront of innovation and job creation in the tech sector, developing the technologies and products for tomorrow.
Rugby has also experienced significant growth in warehousing and distribution sectors, due in no small part to the increasing number of industrial parks built to the north of the town centre; with direct road links to the M6 motorway. Logistically, Rugby is almost literally the epicentre of UK trade, with the ability for businesses based here to transport goods and services to all four corners of the country with relative ease.
Subsequently, the town has become one of the most significant business hubs in Warwickshire, with the Warwickshire County Council confirming that almost a fifth (18%) of active businesses in the county are now located in Rugby, behind only Stratford and Warwick. Almost five thousand (4,715) small and medium-sized enterprises (SMEs) are operational in Rugby, with a business density ratio of 46 per 1,000 population – on par with the regional average. Growing businesses in Rugby have benefitted hugely from the council's business support funding, which has provided £200,000 investment in local SMEs. An additional 35 hectares of new employment land has also been earmarked by the council to encourage more industries to flourish here.
Notable Buildings
The William Webb Ellis statue is arguably one of the most famous landmarks in Rugby. The town is said to be the genuine home of the sport, founded by Reverend William Webb Ellis whilst a pupil at Rugby School. The town is home to Rugby Football Museum, which is a who's who of rugby memorabilia. The town centre's St Andrew's Church dates back to the 13th century and has been lovingly restored to maintain its impressive medieval features.
In terms of business, Rugby's Benn Hall is an excellent venue for conferences, seminars and exhibitions. The main hall can host up to 480 guests, while the Rokeby Room (100 guests) and the Caldecott Room (20 guests) are better suited for more intimate meetings and seminars.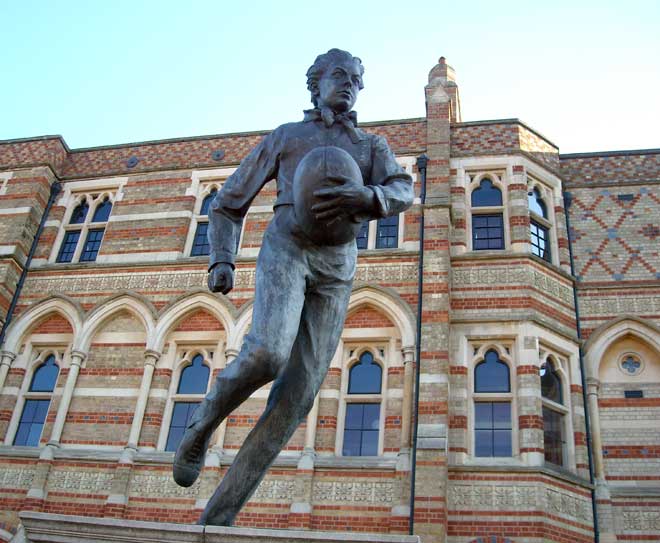 Universities of Warwick and Coventry
Rugby is in the enviable position of being within reach of two UK-leading universities. The University of Warwick is consistently featured in the top ten UK multi-faculty universities and has previously been ranked in the world's top 20 for based on employer reputation. Businesses based in Rugby should note that some of the best young minds in social sciences, science, medicine, manufacturing and the arts can be found here.
Similarly, Coventry University is widely regarded as one of the UK's top new universities, with a fast-growing reputation since it was awarded university status back in 1992. As of this year, Coventry University boasts the highest ranking of any modern university in the UK in the Guardian University Guide and the Complete University Guide. With more than 300 undergraduate and postgraduate courses offered and 11 research centres housed here, it's another centre for excellence that businesses based in Rugby can use to find fresh talent.
About Rugby
Today, Rugby is continually expanding thanks to its flourishing local industries. Now the second biggest area in Warwickshire, the town has expanded as far afield as nearby villages as Clifton-upon-Dunsmore, Cawston and Dunchurch. Meanwhile new suburban areas have been developed called New Bilton, Hillside and Overslade. A further 5,000 new dwellings are proposed to the south of the town.
With close links to other bustling towns and cities nearby such as Coventry, Leamington Spa, Northampton, Daventry and Leicester, out on a limb Rugby most certainly is not; offering businesses one of the best strategic locations to prosper and expand in the UK.
— Pall Mall Estates have a wide range of low cost commercial properties across the UK.
Take a look at our available spaces here or get in touch with our experienced team here.
If you would like to know more about how Pall Mall Estates can help with your commercial property needs, call us today on 020 8986 7221 to speak to one of our experts.
Pall Mall Estates - Helping you move with our low cost, high value, business space to let throughout the UK.
Pall Mall Estates have a wide range of low cost commercial properties across the UK.
Take a look at our available spaces here or get in touch with our experienced team here.