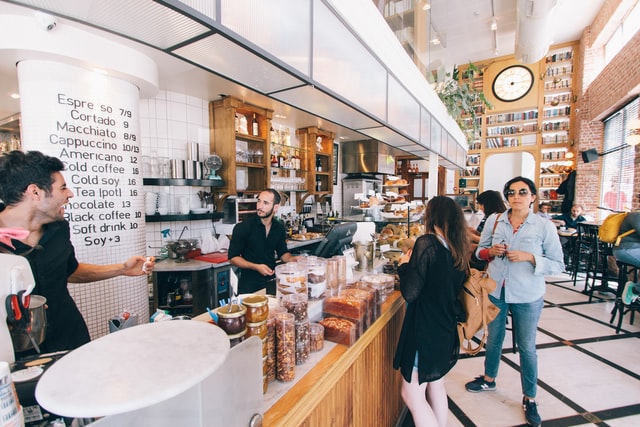 Footfall is the measurement of how many people regularly enter a shop or store. Any start-up retail business or growing business seeking new premises need to focus on footfall to ascertain the commercial viability of a unit.
With the retail climate proving particularly challenging at the present time, it's more important than ever that commercial tenants know they can attract sufficient visitors through their doors to drive sales.
In addition, growing retail businesses need to keep on top of footfall to calculate whether it's possible to increase their pricing structures to improve margins and their overall bottom lines.
Furthermore, retailers that have a handle on their footfall will be able to accurately determine how many selling opportunities they will have in-store, as well as how many selling opportunities they are failing to convert.
How to calculate footfall and conversion rates
You'll be pleased to know that if you've never calculated your business' footfall before, you won't have to stand by the front door and manually count the number of people that enter your store. Today, there are a variety of technologies you can deploy to obtain footfall metrics. Infrared cameras are known to detect the number of times someone walks through your entrance by breaking the infrared beam, for example. Meanwhile stereo depth imaging is one of the most popular methods, ideal for stores with multiple 'zones' to monitor.
Once you know your daily average footfall, it's possible to calculate your store's conversion rate too. Simply divide your overall sales in any given day by the amount of footfall for the same period to establish a conversion rate.
When it's possible to calculate a conversion rate, you can then establish whether your store has seasonal periods where customers are more likely to make a purchase than not. Both footfall and conversion rates can have a huge impact on a retailer's staff scheduling and the amount of stock they are prepared to buy or hold. Footfall and conversion rates can also influence whether you implement special offers or discounts at peak times to turn heads.
As the UK continues its recovery from the other side of the Covid-19 pandemic, footfall will continue to be a key metric in the retail sector. First and foremost, retailers will look to measure the impact of social distancing on footfall and conversion rates. Secondly, retailers will need to ascertain how many people they can safely have in-store at once to a) maintain social distancing requirements, if needed and b) remain profitable.
Discover your next well-connected retail unit at Pall Mall Estates
If you're a retailer and you're struggling to make ends meet, the chances are your footfall and conversion rate will be failing you. When you're approaching the end of your next commercial lease, be sure to browse our available retail units to let at Pall Mall Estates.
We own and manage over 4,000,000 sq. ft of prime grade commercial space in over 100 locations nationwide. This includes many high-value, low-cost retail units in strategic locations on busy shopping parades and at the heart of local communities.
If you'd like more information about any of our available retail units to let, or you'd like us to help you find a suitable space, our friendly and experienced property agents are here to help. Pick up the phone and call us today on 020 8108 2317 or drop us a line using our online enquiry form to outline your specific requirements.
—