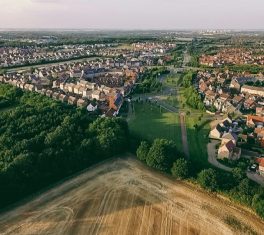 Milton Keynes is one of the most recent of the UK's 'New Towns' and arguably one of its most successful. Situated centrally in the heart of Bedfordshire and Central England, Milton Keynes has rapidly become a beneficial environment for start-ups to thrive and well-established national and multinational firms to make the most of this new-found enterprise hotspot.
There really is much more to Milton Keynes than roundabouts and franchise football teams. Within this article, we'll discuss why Milton Keynes is such an effective hub for businesses of all shapes and sizes.
Impeccable links to the capital and other major cities of commerce
The beauty of businesses basing themselves in Milton Keynes is the city's centrality to many of the UK's most economically important cities. London, Birmingham, Oxford and Cambridge are all equal distance from Milton Keynes. In fact, over 18 million people live within a 90-minute drive of Milton Keynes city centre. Getting into London from Milton Keynes is exceptionally easy, with 35-minute rail connections also making it possible for Milton Keynes-based firms to tap into the capital's talent pool. Businesses in Milton Keynes are also well-situated for airports too, with Luton, Stansted and Birmingham all a short drive away.
Milton Keynes set to become the UK's fastest growing city by population
At the time of writing, the city of Milton Keynes has a population of around a-quarter-of-a-million people. However, by 2026, the city's population is expected to soar to more than 300,000. Population growth on this scale would cement Milton Keynes as the fastest growing city by population in the UK. With more residents and more commuters into and out of Milton Keynes, fresh investment in infrastructure and services is a certainty for the region too.
A city that's been specifically built to facilitate business growth
It's no surprise that the likes of Mercedes-Benz, Network Rail, Santander and Volkswagen have selected Milton Keynes as their long-term headquarters. Especially when you acknowledge that the city has been engineered to make it as easy as possible to do business here. There's countless commercial developments ongoing, creating innovative 'clusters' for firms across all kinds of sectors. Invest in Milton Keynes also states that the city is "home to some of the largest concentrations of North American, German, Japanese and Taiwanese firms in the UK", helping to play a part in encouraging fresh overseas investment in Britain for decades to come.
Discover our available business space to let in Milton Keynes
Given the city's appetite for enterprise, it's no surprise that Pall Mall Estates has a range of well-established commercial properties available to let across Milton Keynes. These well-situated, purpose-built facilities provide office and industrial space in close proximity to a host of major global brands headquartered in the area.
If you're looking for a specific type or size of work space to let in Milton Keynes, please don't hesitate to contact our friendly and experienced team who'll do their best to accommodate your requirements.
Call us today on 020 8023 6041 / 020 8023 8028 or enquire using our online contact form.